A dog was neglected for two years and finally someone called Hope For Paws
Your gift goes straight to work helping us save animals
Last week I received an unusual call about a dog on a property that has been neglected for a very long time. In general, cases like this must be handled by Animal Control because, in the state of California, animals are considered "property", and we, as a rescue organization, do not have the legal authority to come and take someone's dog - that would get us in trouble for stealing someone's property.

Of course, we could have contacted Animal Control, but we feared that they would come, take her to the shelter, and she would be labeled as an "Evidence Dog" in a cruelty case. In our experience, this process can take months, and with Christmas just a few days away, Loreta Frankonyte and I needed to figure out a way around all that 😎😎

Please watch until the end because her complete transformation in just 3 days will amaze you!
Here are a few pictures to show the incredible transformation that happened in her life thanks to your incredible support!
This is the image that was texted to the Hope For Paws emergency line.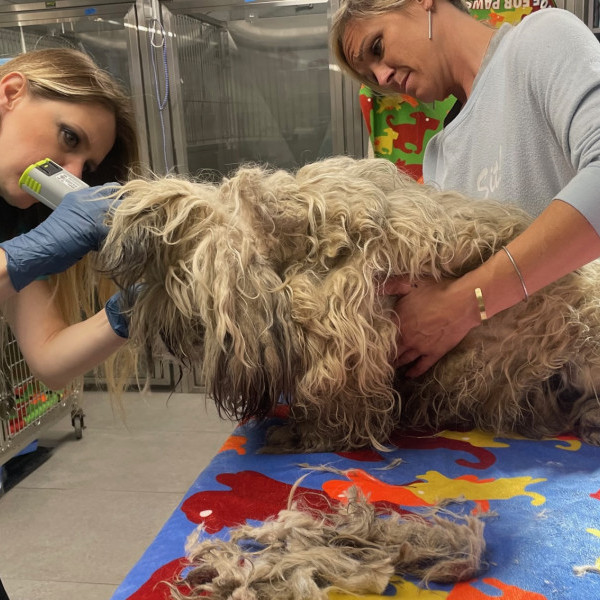 Loreta Frankonyte and Katie McKittrick handled the grooming while I filmed the process for you, and also figured out how to do Facebook LIVE with our supporters on our Facebook Page, and then we did an Instagram LIVE with our supporters on our Instagram page - if you're not following us yet, it's definitely time… it's almost 2023 ❤️😊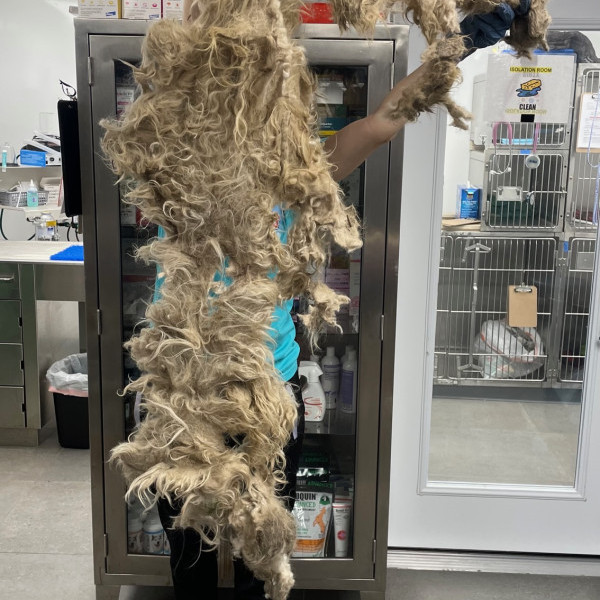 Pretty amazing - almost the whole coat in one piece. The coat smelled awful, feces couldn't reach the ground so it got stuck to the coat, and so did urine… just NOT OK!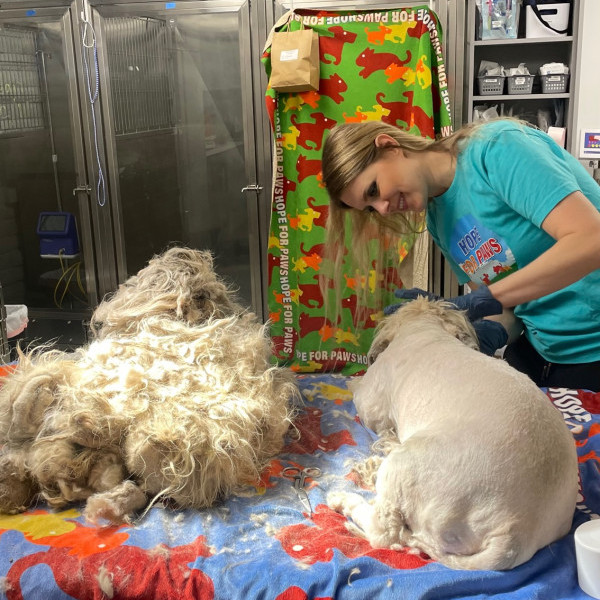 It is so weird to me that she was obviously well-fed, but that's all her owners did for her… I just don't understand it.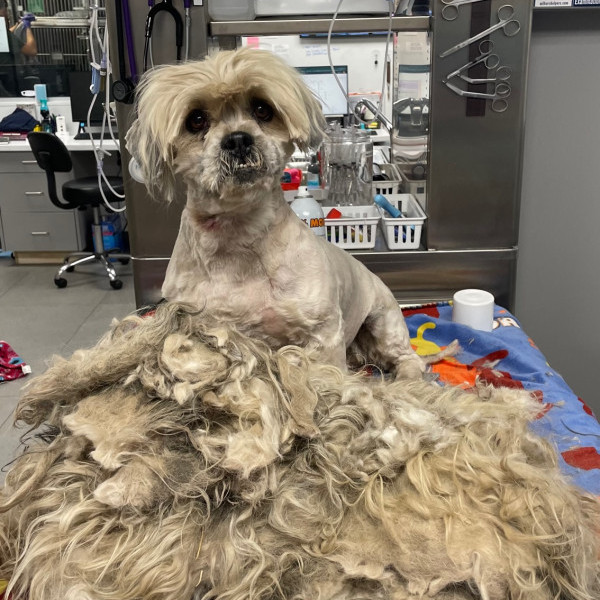 Noelle was amazed by the turn of events in the past two hours!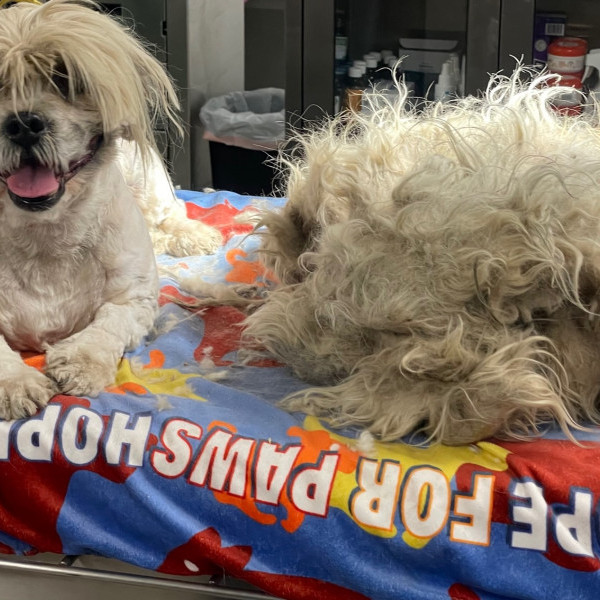 Ready for the first bath of her life!!!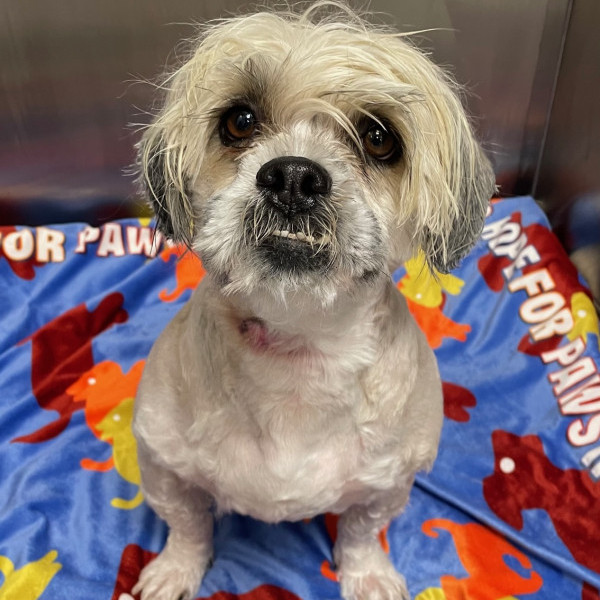 After a bath, Noelle felt so much better, and three days later, she was a completely different dog yet again!!!

I really hope you will share her story so we can find her a loving forever home! Our friends at Foxy and the Hounds are fostering her, so if you would like to adopt her, please contact them directly: www.FoxyAndTheHounds.org

This story reminds me of Abby's rescue that we did not too far from where we found Noelle - it was another Christmas Miracle 🎅
If you love our work, and if you would love for us to continue saving lives and share these amazing stories with you, please join us today as a Hope For Paws member 🙏
Donate a cheeseburger every month
Please MAKE SURE to be back on Sunday, Christmas Day, for the EPIC video of Norman!!!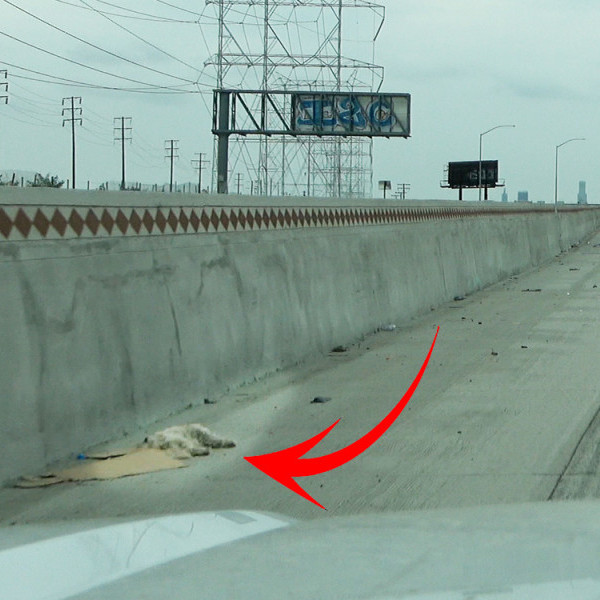 He appeared to be dead on the freeway, but I wasn't leaving until I made sure there was no beating heart inside of his body.

Please stay safe and healthy.
Merry Christmas!!!
Eldad
p.s. LOOK, there is a SHARE BUTTON right below this text - please introduce an animal lover you know to our work ❤️❤️❤️❤️❤️❤️❤️❤️❤️
👇
👇
👇