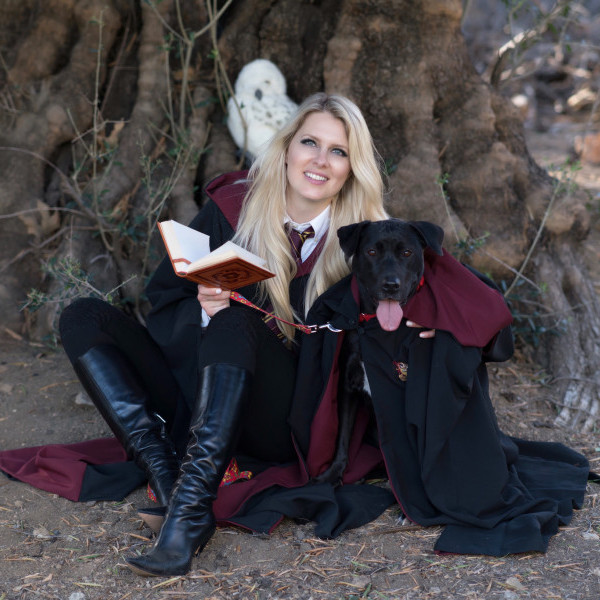 Loreta
Rescuer
I was born in beautiful Vilnius, Lithuania to a family of very well known and respected artists/musicians. I started my professional career at the age of 4. At the age of 5 I performed for a Lithuanian president and by the age of 7 I was performing in arenas, concert halls and stadiums, including the Olympic stadium in Moscow for 20,000 people.
When I was 12 years old, my parents and I moved to Spain. There was a huge problem with stray cats and my parents and I decided that we really need to help the stray cat community. We spayed and neutered hundreds of cats and always took care of the stray cat colonies. I got to bottle feed kittens that were abandoned by their mothers and we also owned a poodle who loved kittens. While living in Spain, I did some modeling doing runway shows for El Corte Ingles when I realized that music was still my biggest love. So at the age of 15 I moved to England to continue my studies and to pursue my music career, which got me a deal with Warner Brothers Records.
My first UK single Trouble with Boys was featured on the Friends Again TV show soundtrack, and in the New Year's Eve episode "The One with the Routine". Despite my huge love for music, something was missing. I loved rescuing animals which I did on a regular basis, but I really wanted to do a lot more. Since I was a little girl, I was bringing home injured pigeons, dogs, cats and all kinds of wild creatures. My parents were very supportive of my love for animals and they helped me care for them.
A few years ago I came across a Hope For Paws rescue video of Fiona and I remember thinking to myself how much I would love to be a part of this amazing organization. Then 2 years later I asked another rescuer to help me catch a dog that I was not able to and she suggested that I call Hope For Paws. Eldad came out to help right away. I couldn't believe that I met my hero that day! Then 3 years later I needed help with catching a bunny so I called Hope For Paws for the second time and Eldad came out to help again. This time we kept in touch as I fostered the bunny. Eldad was always checking up to see how Rosabelle was doing and I finally worked up the courage to ask if I could help out with rescues. So 4 years ago I did my last 2 shows in China performing for 6,000 people and then I decided to take a one year break from the music industry to rescue animals. That one year turned into four years and counting.
I feel incredibly blessed and lucky to be a part of such an incredible team of such compassionate and caring human beings that have become my family. These last four years rescuing animals have been emotionally tough but extremely rewarding. We see a lot of cruel things being done to animals but we are able to give them a new beginning filled with unconditional love and care. While I had a very exciting and glamorous life filled with travels all over the world and collaborating with the most talented artists and writers, nothing gives me more joy and inner peace than knowing that I was able to save a life. Thanks to Hope For Paws and our incredibly generous donors I have rescued dogs, cats, pigs, birds, raccoons, skunks and opossums.
I am a proud momma of a beautiful 17 year old poodle Bonnie Jr. A year and a half ago we lost our other poodle, a 19 and a half year old Coco Hanako and we really miss her.
My hobbies are: cooking, reading, traveling, fashion (you don't get to see that on rescues), gardening, learning languages (I speak 4 fluently, 3 I understand quite well), yoga, long walks, interior designing, art, going to antique stores. I also love Hello Kitty and I collect vintage spaghetti poodles and shoes.